Truffled Gnocchi Macaroni And Cheese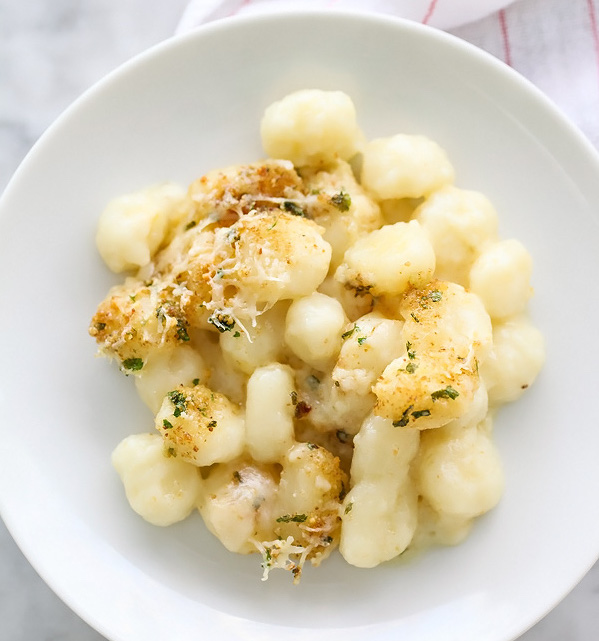 Gnocchi macaroni and cheese is bathed in an easy white cheddar and truffle infused sauce to add an elegant touch to everyones favorite comfort food.
Prep Time: 45 minutes
Bake Time: 15 minutes
Ingredients
2 16 ounce boxes mini gnocchi
4 tablespoons truffle butter
3 tablespoons all-purpose flour
2 cups whole milk
1 1/2 cups Wisconsin swiss cheese grated
1 cup Wisconsin white cheddar cheese
1/2 cup plus 2 tablespoons grated Wisconsin parmesan cheese
1 teaspoon kosher salt
1/2 teaspoon ground white pepper
1/4 cup dry bread crumbs
1 peeled garlic clove
1 tablespoon fresh Italian parsley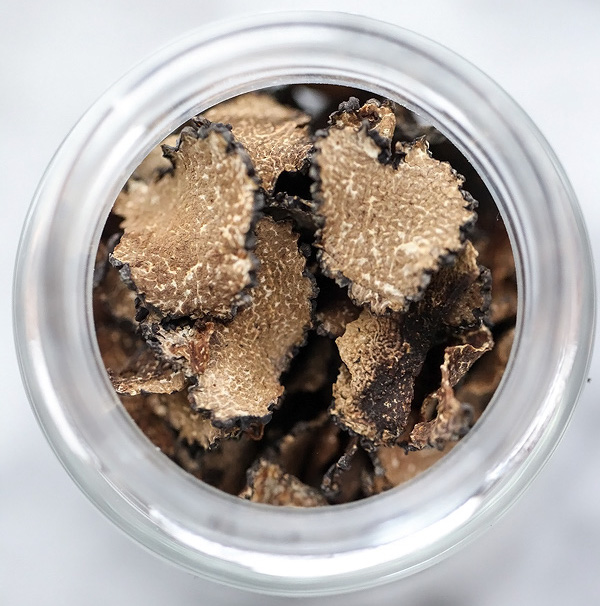 Instructions
1. Preheat oven to 375°F.
2. Cook gnocchi to al denté. according to package directions. Drain and set aside.
3. While pasta is cooking, prepare cheese sauce. Melt 3 tablespoons truffle butter in large saucepan or Dutch oven over medium heat. Add flour and whisk to combine, cooking over medium-low heat 3-4 minutes, whisking, until flour mixture becomes light brown in color. Add milk while whisking and cook over medium heat 5-10 minutes or until sauce thickens.
4. While the sauce cooks, melt remaining tablespoon of truffle butter. Add bread crumbs, 2 tablespoons parmesan cheese, melted butter, garlic clove and parsley to a food processor and process for 30 seconds or until minced. Set aside.
5. Remove sauce from heat and add swiss, white cheddar and remaining 1/2 cup parmesan cheeses; stir until melted. Season with kosher salt and white ground pepper.
6. Add drained gnocchi to sauce and stir to combine. Pour into an 8x8-inch baking pan or 1 quart casserole dish and sprinkle with bread crumb mixture and additional parmesan cheese, if desired. Bake 10-15 minutes or until the top is lightly browned and bubbly. Serve immediately.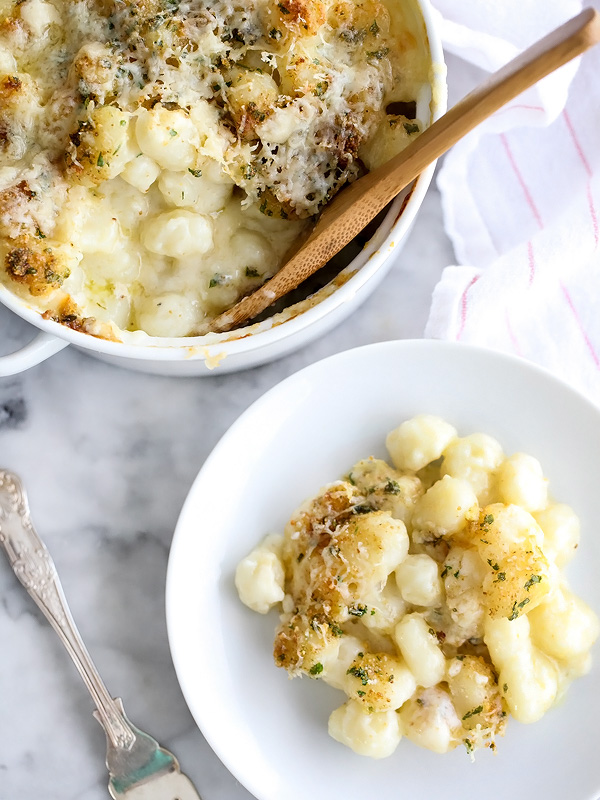 Recipe and images from foodiecrush.com